Ajikan is an early Shingon meditation practice.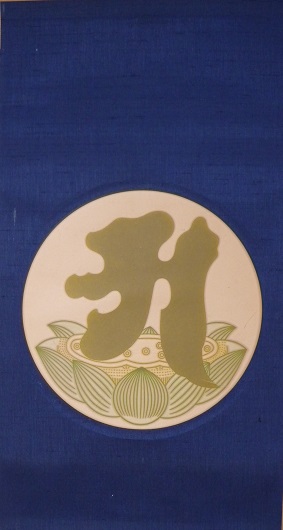 Although it has many forms of varying complexity, it is focused on the sound, the form, and the meaning of the Sanskrit letter A, as a gateway to experience ultimate reality.
This practice is used by lay people and beginners as well as advanced priests to deepen their experience of the universe.
Although this technique seems simple, it provides rich diversity in experience, as one deepens their understanding.
In the Mahāvairocana Sutra it is said that the wisdom of Mahāvairocana is "to know one's mind as it truly is.'
This is not our mind that is buffeted about through outside forces and experiences joy and sorrow from an ordinary perspective.
From birth we have been conditioned to create our own false ego, created by our own personal desires.
By believing in this ego, which gives you a false sense of reality in the real world, you will experience a sense of loss and suffering in your daily life.
The untainted pure main, before the ego driven views of reality, is the true mind.
In Shingon this true mind is called the mind originally unborn.
This untainted original mind directly links to the essence of the universe.
By using this body as a medium, you will be able to form the body of the self which embodies Mahāvairocana or the infinite universe.
Through learning the techniques of Ajikan the illusions of the desires and passions are dissolved and the nature of the Universe can be experienced.
(From "SHINGON ESOTERIC BUDDHISM A HANDBOOK for FOLLOWERS")
PR